1. Musée du Panthéon National Haitien (National Museum)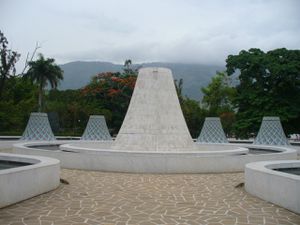 The Musée du Panthéon National Haïtien (MUPANAH) is a museum featuring the heroes of the independence of Haiti and the Haitian history and culture. The Musée du Panthéon National Haïtien was opened in 1983. This cultural center is to perpetuate and disseminate the memory of "Fathers of the Nation". One of its main missions is to participate in heritage conservation and dissemination of national culture. The museum traces Taínos, Spanish, and a section dedicated to the heroes of independence including silver gun with which Henri Christophe committed suicide and the bell used to announce the independence. It also contains chains of slavery, torture instruments, sculptures and temporary exhibitions of paintings.
About 1 hour drive from the hotel
2. Shopping in Petion Ville, Fine Art and Local Street Art – found everywhere
3. Landmarks in Port au Prince
4. Beautiful Beaches
5. Basin Bleu – in Jacmel
Bassin Bleu is both picturesque and exciting. You can just swim in the pools or you can climb up and jump / dive off of the surrounding rocks. An adventure from beginning `til end. It takes a while to get there if you decide to hike, but it is all worth it. Make sure to wear comfortable walking shoes. Once you get there, it is a good idea to hire a guide, because they know their way more easily. I truly recommend it
---- about 2.5 hour drive from hotel.
6. Saut Mathurine, Les Cayes
One of Haiti's most pleasing tourist attractions is a natural feature, Saut Mathurine waterfalls near Camp Perrin, Haiti. These waterfalls are the biggest in Haiti. Many consider St. Mathurine waterfalls one of the finest natural wonders in the Caribbean region. Cascading out of the La Selle Mountains, Saut Mathurine is a spectacular waterfall surrounded by lush vegetation. Around the falls and along the trail leading to the waterfalls, various varieties of flowers, birds, and plants add to the natural beauty and enjoyment of this area. The falls, dropping around ninety feet and spreading over one hundred feet wide, are a roaring show of the power of water. The power of the water has created a perfect swimming hole. Most locals and travelers enjoy climbing to the brink of the falls and jumping into the pool of greenish-blue water
---- about 4-hour drive from the hotel
7. Citadel – Cape Haitian
These Haitian monuments date from the beginning of the 19th century, when Haiti proclaimed its independence. The Palace of Sans Souci, the buildings at Ramiers and, in particular, the Citadel serve as universal symbols of liberty, being the first monuments to be constructed by black slaves who had gained their freedom
--- about 6-hour drive from the hotel